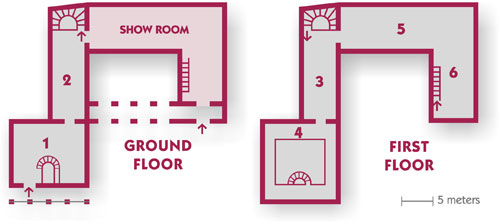 The first area is dedicated to "The Origins of Distillation": through reconstructions of old stills it is possible to follow the development of the art of distillation over time. A chronological panel shows the main figures who, from the year one thousand up until the end of the nineteenth century, were concerned with distillation; whereas another panel indicates the approximately 300 types of spirits that are produced from different raw materials in the various countries of the world.
The second area is reserved for "Distillation Plants": various stills for the production of grappa - 'direct fire', 'double boiler' and 'flowing steam' - enable visitors to understand the characteristics of traditional and industrial methods for the distillation of marc.
The third area gives a better understanding of "Marc": several panels surround a 'Movable Still' with steam boilers and describe the characteristics of the raw material, i.e. marc or grape skins, from which Grappa is obtained.
The fourth area is dedicated to the Poli family, which has been devoted to Grappa with love and passion since 1898, always obtaining great satisfaction from it.
The fifth area tells about "Grappa", illustrating the characteristics that make this Italian distillate a unique product in the world, the regions where it is produced as well as the aromas that can be recognised. On display there is also an important collection of 2,000 bottles of Grappa produced from the '30s up until the '80s and coming from nearly 400 distilleries, many of which have now disappeared.
In the sixth area there's a small selection of the Poli Museum's Library of the spirit (Bassano del Grappa). The subjects of aging in wood, flavouring and methods of consumption are also dealt with.